Have you ever driven down the 55? I'm sure you have. But did you notice the huge building to the east? Maybe. It looks something like this:
Did you wonder what it was? I did. So obviously I had to
Google
it.
Surprised?
Turns out it is the
Marine Corps Air Station Tustin.
Well, the former MCAS, Tustin. It's actually got a
long
history
before that. Check out this watercolor
Paul Gavin
: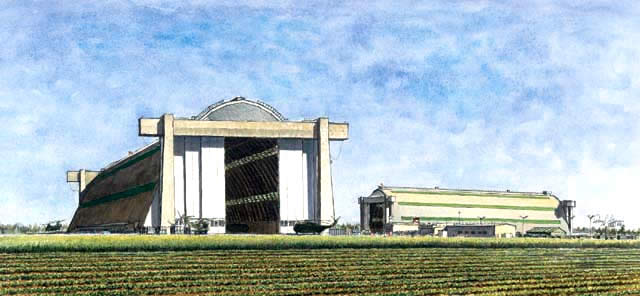 See the little, itty-bitty helicopter in front of the building? It's a
CH-53
. According to Wikipedia:
Length: 88 ft 6 in (26.97 m)
Rotor diameter: 72 ft 2.7 in (22.01 m)
Height: 24 ft 11 in (7.6 m)
It's not actually so itty-bitty, is it? Shows how huge the building really is. Seriously,
ginormous
.
That's because it was originally the
Naval Air Station Santa Ana.
Built to house blimps.
Six
of them. Crazy.
Anyway, the reason I even saw this was because it was pointed out to me on the way to the
OCPAC
to see
Hairspray
!!! Fantastic!
PS*- Can you finish the title quote? The Corny Collins Show is officially what? And who said it?
*I really do need to come up with a prize for the first correct commenter...I'd say we'd go out for ice cream, but that won't really work because not everyone is local. Maybe I'll make some greeting cards and send a random one...or I can make you personalized address labels! ...ya, kinda lame...maybe...um...I still got nothing...one day!